Drumsticks are nutrient-rich green vegetables. The production of drumstick is believed to have originated in the Indian subcontinent and thus, Best Drumstick Exporters in India have been growing this industry. Today drumsticks are the most sought after green vegetables, and due to the increased demand now there are several drumstick exporters in India. The drumsticks are said to be rich in proteins and also contain amino acids, potassium, calcium, vitamin A, B and C. The drumsticks can be consumed fresh or even dried. Every part of the drumstick is useful like oil extracted from its seeds are used as vegetable oil and biofuel. Apart from cooking, drumsticks are also used in the pharmaceutical and cosmetic industry.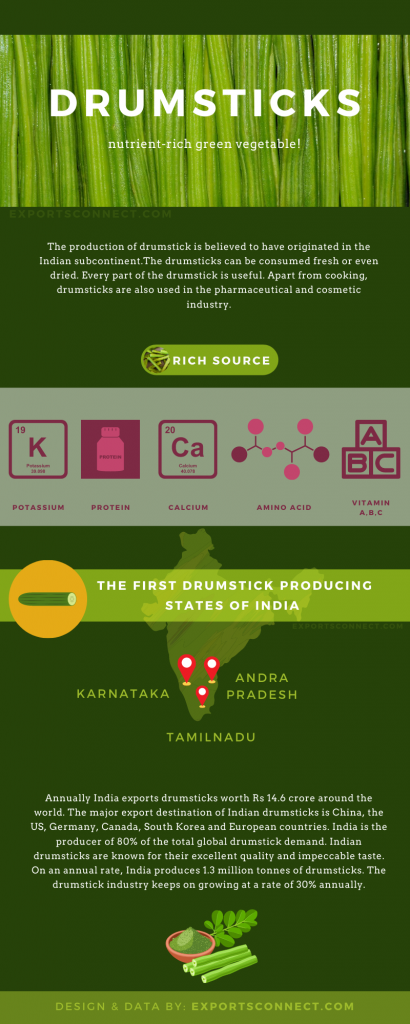 The first drumstick producing states of India are Andhra Pradesh, Karnataka and Tamil Nadu. India is considered to be a significant supplier of drumstick products. Annually India exports drumsticks worth Rs 14.6 crore around the world. The major export destination of Indian drumsticks is China, the US, Germany, Canada, South Korea and European countries. India is the producer of 80% of the total global drumstick demand. Indian drumsticks are known for their excellent quality and impeccable taste. On an annual rate, India produces 1.3 million tonnes of drumsticks. The drumstick industry keeps on growing at a rate of 30% annually. Here is a list of the top drumstick exporters in India.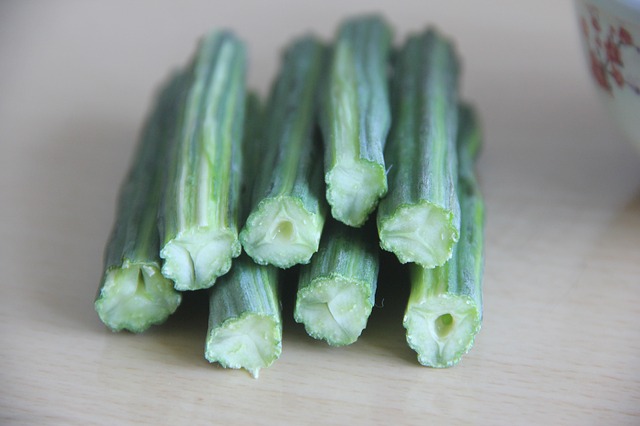 1. Seair Exim
Seair Exim solutions is a genuine and trusted Indian exporter of drumsticks. The company is known for supplying high grade of drumstick in the market. The primary drumstick export destinations of the company are France, Bahrain, Kuwait, Saudi Arabia, Australia, United Arab Emirates, Oman, Qatar, United States, Canada and Singapore. The company was established in 2009 and within a short period have successfully installed the identity of being India's leading export house. Seair Exim within a short period has become leading exporters of agro products and fresh vegetables in 80 countries.
Products
Drumsticks
Sugar
Fruits
Vegetables
Nuts
Oilseeds
Location: B-1/E-3, 2nd Floor, Mohan cooperative estate, Mathura Road, New Delhi110044, India
2. Yeshraj Agro exports Pvt. Ltd.
Yeshraj agro is the most preferred exporter of fresh drumsticks in the world. The company for the supply of a premium range of products has earned reputation and esteemed customers in the domestic and international market. The drumsticks exported by the company are rich in taste and retain their original colour and nutritional value. The primary export destinations of the company are Africa, Middle East, Western Europe, Eastern Europe, South America, North America, Central America, Australia and Asian countries. Yeshraj Agro are manufacturers, exporters, wholesalers, traders and suppliers of fresh green drumsticks, fruits and vegetables. The company sources products from reliable and trusted vendors.
Products
Drumsticks
Ginger
Green chilli
Capsicum
Spinach
Cabbage
Sweet potato
Location: YESRAJ AGRO EXPORTS PVT. LTD. Mahalaxmi, Market Yard, Guitekdi, Market Yard, Pune – 411037, Maharashtra, India
3. Trade India
Trade India is a leading drumstick export company in India. Every year the company supplies several varieties of drumsticks around the world. Trade India was established to provide 360-degree digital solutions to all business-related needs. Gradually they also ventured into the export of drumstick, which turned out to be a flouring business. The company within a short period has established the identity of being leading exporters of Indian drumsticks. Trade India has a team of professionals that look after the sourcing, processing, packaging and shipment of the products.
Products
Fresh Drumsticks
Methi and drumstick soup
Moringa drumstick
Tree drumstick
Frozen chicken drumsticks
Location: Infocom Network Limited., Plot No. 93-94, Riana Tower, Noida Express Way, Sector -136, Noida – 201305
4.Infodrive India
Infodrive India is the leading producer of fresh drumsticks. The company has over 25 years of experience in the export of fresh vegetables and fruits. The company is known for its best-in-class products that are delivered on time. Over the years, the company with years of experience in the field has earned much acclaim for the supply of premium quality of products. The company has been serving 24,000+ clients around the world with 22,00 products.
Products
Drumsticks
Fresh vegetables
Fresh fruits
Agro products
Location: F-19, Pocket F, Okhla Phase-I, Okhla Industrial Area, New Delhi- 110020
Are you start with drumstick export business? Looking to collaborate with drumstick exporters in India? Reach out to us at exportsconnect.com by filling in the form. We have a list of the leading drumstick exporters in India that you can collaborate with for business expansion.
Do visit http://blog.exportsconnect.com/top-neem-product-exporters-india/ for list of Top Neem product Exporter in India.
FAQ's
1. What are the benefits of drumstick?
Drumstick loaded with iron, calcium, and essential vitamins, fiber and antioxidants fight infections, bolsters immunity, and keep diseases at bay.
2. What happens if we eat drumstick?
Drumstick helps in purifying the blood of toxins and making our organs function better. They further act as a potent antibiotic agent. Consuming drumsticks on a regular basis may help you streamline blood circulation well.
3. Can you extract oil from moringa seeds?
Yes, 100%. Because we only sell the PKM1 variety of seeds. They are actually the highest yielding variety for oil extraction.
We recommend you do cold press extraction for maximum benefit. If you are not filtering the oil, we recommend letting it stand and decant for at least 15 days.
4. Do you swallow whole, or peel husk out?
The most common and practical way to ingest these seeds is by peeling the husk and swallowing with water.
If you are looking to boost the weight-loss properties of the seeds, it is recommended to swallow whole with the husk included. If you plan to ingest them with the husk, we recommend washing it before ingestion and doing it for 14 days at a time, with a 14-day pause in between.
For maximum potency, the ideal way to consume is by removing the husk and thoroughly chewing it, and finalize by swallowing it. Keep in mind they have a strong and unique taste. Chewing prior is beneficial because you start breaking and pre-digesting at an oral level, making absorption more efficient once they reach the digestion stage.
5. Does Drumstick help with cancer?
Yes, it seems to be a powerful cancer preventive agent, though the exact doses needed in humans is unknown.