Ethanol is a by-product of the integrated sugar mills. Studies have proven that, on average, 10.8 lt of Ethanol can be produced from 1 tonne of sugar. Experts have found that B-heavy molasses yield high quality of Ethanol. The blending of Ethanol in the fuels reduces the need for crude oils, which decreases the country's dependence on crude imports. Ethanol is also used in industries as a cleaner fuel to promote the efficient running of the machines. India, with a large number of sugar mills, is the leading producer of Ethanol. On average, the ethanol industries of India annually produce around four bn liters of Ethanol and thus Ethanol suppliers of India have been growing.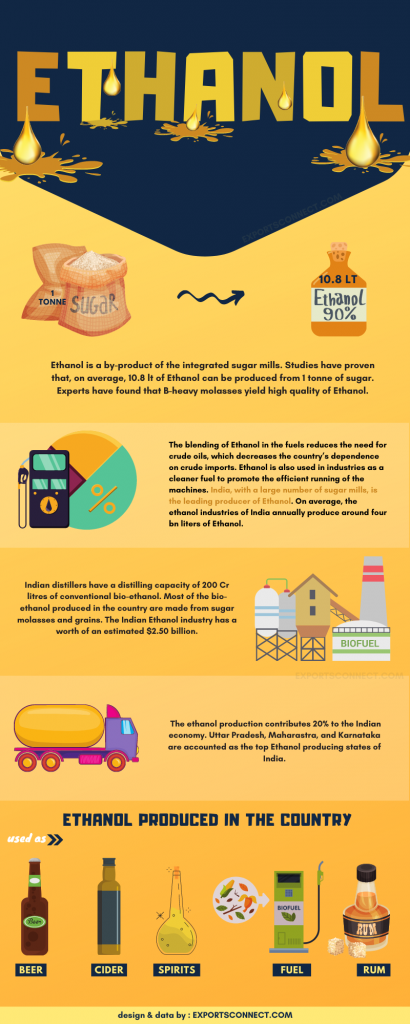 Indian distillers have a distilling capacity of 200 cr litres of conventional bio-ethanol. Most of the bioethanol produced in the country are made from sugar molasses and grains. The Indian Ethanol industry has a worth of an estimated $2.50 billion. Ethanol produced in the country is used as fuel additives and beverages such as beer, cider, wine, spirits, and ale. The ethanol production contributes 20% to the Indian economy. Uttar Pradesh, Maharastra, and Karnataka are accounted as the top Ethanol producing states of India. So here is a list of the high ethanol suppliers in India.
1. Kanoria Chemicals & Industries Limited
Kanoria Chemicals & Industries Limited is a leading manufacturer of chemical intermediates in India. The company is also involved in the production of automotive, industrial electronics, renewable energy, and textiles. KCI has three chemical manufacturing firms, which are in Gujarat, Andhra Pradesh, and Vishakapatnam. The company is known as the leading producer and exporter of Ethanol in the country. With 20 years of experience in the field, the ISO certified company specializes in the marketing and distribution of chemicals, plastics, paper, and organic tea.KCI has also been recognized for its work in the areas of environmental management.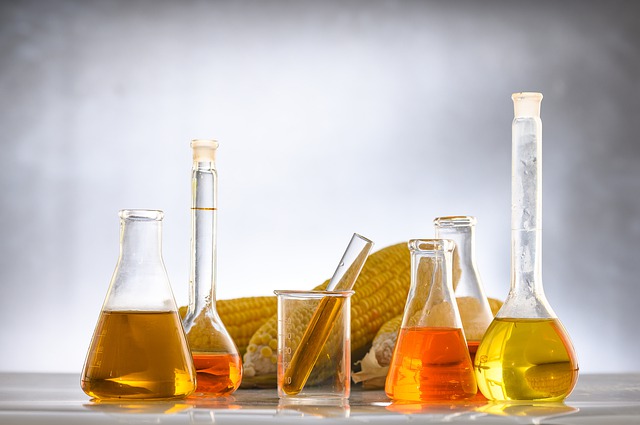 Products
Ethanol
Chemicals
Textiles
Automotive and Industrial electronics
Renewable energy
Textiles
Plastics
Paper
Location: Kanoria Chemicals & Industries Limited, 'KCI Plaza', 6th Floor, 23-C, Ashutosh Chowdhury Avenue, Kolkata – 700 019
2. Shanker International
Shanker International is a customer-oriented dynamic exporting firm. The company deals primarily in the export of alcohol and alcoholic products. The company works with the vision of providing quality products to potential customers. Shanker International also is the leading exporter of ethyl alcohol from India. The company works with the vision of environment-friendly stakeholders of alcoholic products in the market.
Products
Ethyl Alcohol
Neutral Alcohol
Grain-based
alcohol
Sugar-based alcohol
Ethanol
Location: 214-Kailash Hills, New Delhi-110065 (INDIA)
3. Taj Pharmaceuticals
Taj Pharmaceuticals is accounted for as a top producer of Ethanol. The company is known for the export of Ethanol and other chemicals to Latin America, Africa, the Middle East, Russia, and Asian countries. Taj Pharmaceuticals is a venture of the Taj groups. The company is famous for its dynamic range of chemicals that it manufactures. Taj groups for the manufacture of the products blend technology with innovation. The years of experience in the field has made them a leading name in the ethanol export market. With years of dedicated service, the company has established a strong foothold in the global market.
Products
Ethanol
Chemicals
Drugs
Agrochemicals
Location: 214, Bake House, Bake House Lane, Fort, Mumbai 400001, India.
4. K.Raj &Co.
K.Raj &Co. is credited for being the best supplier of Ethanol in India. The company has years of experience in the manufacturing of chemicals. Over the years, the company has mastered the art of making Ethanol. K.Raj and Co, established in 1965, started as a leading importer of laboratory and industrial chemicals in India. Gradually the company leveled up their game and entered into the production of Ethanol and other chemicals. The premium quality of the chemicals manufactured by the company has earned them recognition in the global market.
Products
Ethanol
Laboratory chemicals
Solvents
Reagents
Indicators
Location: K. RAJ & Co. / Tolani Chemicals, 704, Regent Chambers, 208, Nariman Point, Mumbai, Maharashtra, India.
5. Shree Renuka Sugars Limited
Shree Renuka is a sugar mill that is known for the production of Ethanol as well. Renuka sugar is India's largest ethanol and sugar producer. The company manufactures fuel grade ethanol that can be easily blended with petrol. Renuka sugar has a production capacity of 930 KLD of Ethanol. The company makes use of cheem-engineering and turnkey distillery for the manufacturing of Ethanol.
Products
Location: Plot No. 32, Subhash Road, Vile-Parle (East), Mumbai – 400 057
6. Balrampur Chini Mills
Balrampur Chini mills if the most abundant producer of sugar and ethanol. Founded in 1975 under the company's act norm, Balrampur mills have aced at the game of ethanol manufacturing. The company has sugar mills located at Akbarpur, Mankapur, Kumbi, and Gularia in U.P. Every year; the company produces several tons of sugar and ethanol. The ethanol produced by the company is used in the automobile and beverage industry.
Products
Sugar
Molasses
Bagasse
Ethyl Alcohol
Ethanol
Location: Gularia Lakhimpur Kheri – India
7. Dwarikesh Sugar Industries Ltd
Dwariskesh sugar industry is an Indian exporter of ethanol and sugar. The company is actively involved in the production of sugar and its allied products. Dwarikesh Sugar mills are accounted for as the fastest growing industries of the country. Every day the company produces several tons of sugar, ethanol, and its allied products. The export of ethanol, sugar and its by-products help the company to earn a profit of Rs 175.36 million every year
Products
Location: Bijnor district, U.P
8. Dhampur Sugar Mills Ltd.
Dhampur sugar mills is a leading manufacturer of sugar and ethanol. It is accounted for to produced 4,200 metric tonnes of sugar and several tons of ethanol daily. With a producing capacity of 39,500 TCD, Dhampur mills contribute 15 % of the total ethanol exported from India. The company also produces 270,000 liters of alcohol every single day.
Products
Refined Sugar
Plantation White sugar
Ethanol
Alcohol
Acetic anhydride
Ethyl acetate
Liquid carbon dioxide
Location: Dhampur, U.P
Are you planning to start with the ethanol business? Looking to collaborate with the best ethanol suppliers of India? Visit expertsconnect.com find a list of the best ethanol suppliers in your city.
Check out http://blog.exportsconnect.com/sugar-exporters-india/ for Top Sugar Exporters of India.
FAQ's
1. How do you manufacture ethanol?
Ethanol is manufactured by reacting ethene with steam. The catalyst used is solid silicon dioxide coated with phosphoric(V) acid. The reaction is reversible. Only 5% of the ethene is converted into ethanol at each pass through the reactor.
2. What are the two methods of producing ethanol?
Ethanol, or ethyl alcohol, is a chemical that is volatile, colorless, and flammable. It can be produced from petroleum via chemical transformation of ethylene, but it can also be produced by fermentation of glucose, using yeast or other microorganisms; current fuel ethanol plants make ethanol via fermentation.
3. What are the uses of ethanol?
Ethanol is a very important industrial chemical which is used as a solvent in the synthesis of other organic chemicals and as an additive to gasoline in the automotive industry (forming a mixture called gasohol). Ethanol is also the key component in almost all alcoholic drinks such as beer, wine, and spirits.
4. What are ethyl alcohol uses?
Ethyl alcohol is used to make alcoholic beverages, for example wine, beer and liquor. Ethyl alcohol can also be used as a solvent.
5. The production of ethanol would appear to be a simple
process. Is there anything that will make this process
more efficient in the future?
Yes. There are new enzymes being developed that will extract more gallons of ethanol from each bushel of corn. There are also several seed companies working on
developing high starch corn and high fermentable varieties that will produce more ethanol per bushel. Either one of these developments will greatly impact the profitability of the ethanol industry. This would give producers the opportunity to grow under
contract for a specific market.