Fabric is a plain sheet of cloth made from natural materials or human-made fibers by weaving or knitting. More than half of the structures are knitted or woven, but some fabrics are produced by a nonwoven process such as braiding, felting, twisting, etc. What is the fabric? Fabric is a raw material that is used in the manufacturing of garments and Fabric manufacturers of India have been working well towards this. Fabric production follows a three-step process. The first step is the making of fabric from yarn production. Under this process, the raw materials are harvested and processed to be transformed from natural fibers into yarns and threads. The coarse fibers are made into yarns and threads by spinning them.
The second step is the production process in which the yarn's threads are joined together to form a fabric. The method of joining yarn together is known as weaving. The final step is the processing in which thee fresh from the loom fabric is cleared of impurities, seed particles, and debris. The processing creates the transformation of the materials into useful industry textiles. The prepared fabric s are then shipped out to clothing and textile manufacturers. India is the second-largest producer of textiles and clothing in the world. The country also is the second-largest exporter of textile and apparel of the world. India is the leading manufacturer of raw fabrics, both natural and man-made. The country has emerged as the largest producer of cotton with a production capacity of 370 lakh bales. China and Bangladesh are the largest export destinations for Indian cotton. In the global market, India is accountable for 12% of the export of fabric.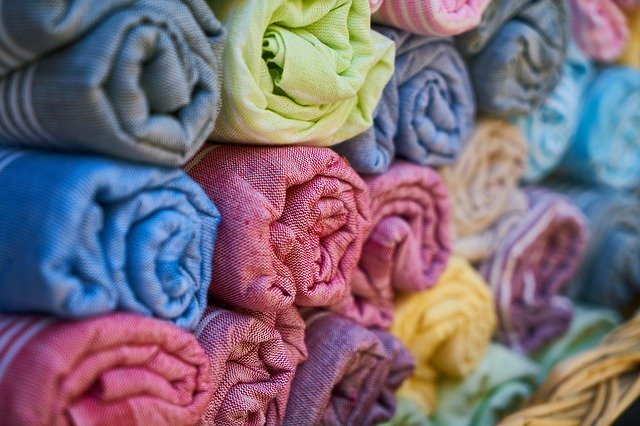 Here is a list of the leading fabric manufacturers of India.
1. Fibre2fashion
Fibre2fashion is a dynamic global B2B marketplace for fabrics. The company is known to bridge the gap between buyers and sellers. Fabric2fibre, with its extensive network of textile and apparels business, has earned global recognition. Its years of experience have become a household name and India's leading supplier for raw fabric. Fabric2fashion, established in 2000, is known for the supply of premium quality of natural and man-made materials. The company is known to export 13 categories of products to 190 countries worldwide
Products
Yarn
Knitted fabric
Woven fabric
Nonwoven fabric
Leather and footwear
Garment
Dyes and chemicals
Location: B-3 Abhishree Corporate Park, Iskcon-Ambli Road, Bopal, Ahmedabad 380058.India
2. KEETEX
Keetex is a leading manufacturer and supplier of cotton and polyester fabrics. The company, founded in 1994 with its nine years of experience, has established a strong foothold in the global market Keetex is also involved in the bleaching, dyeing, and printing of clothes. The fabrics manufactured by the company are according to the strict local and international standards. Every day the company runs around 400 looms to make various types of materials. The premium quality of their materials paired with their authenticity is why they are accounted as leading fabric manufacturers of India.
Products
Cotton Grey cloth
Polyester cotton blended cloth
Polyester cloth
Bleached, dyed and printed fabric
Sheeting
Interlining cloth
Crepe bandage clips
Elastic crepe bandage clips
Aluminum quoted crepe bandage clips
Location: 67/68, L. K. Akiwate Co-Op. Industrial Estate, Jaysingpur – 416144. Dist. Kolhapur, Maharashtra, India.
3. NGAPPARELS
With a legacy of 81+ years and industry experience f 32+ years, NGAPPARELS is accounted as a top fabric manufacturer of India. The company has to its credit thee manufacturing of India's first crepe bandage. The Indian ethnic shawls, capes, and suits made by the company have a high demand in both the domestic and international markets. Established in 1995 in Ludhiana, the company, with its experience, has become a recognized manufacturer, exporter, and supplier of all types of ready-made garments and fabrics.
Products
Linen
Polar fleece
Cotton
Viscose
Bamboo
Polyester
Spandex
Ready-made garments
Location: NG APPARELS, 270 Industrial Area-A, Ludhiana, Punjab 141003 INDIA
4. Response fabric
Response fabric ever since its foundation in 2004 is considered one of India's best fabric manufacturers. The company is known for its manufacture of antimicrobial fabric that matches the health standards. The significant aspect of the materials manufactured by the firm is fire retardant. The ISO certified company is famous for its premium quality of the built fabric. The company is the supplier of fabric in leading companies such as Godrej, IBM, OYO, TATA, Satyam
Products
Poly recycled cotton
Jute fabric
Leatherite fabric
Polyester
Dobby fabric
Knitted fabric
Printed fabric
Jacquard fabric
Printed fabric
Synthetic leather
Antimicrobial fabric
Upholstery fabric
Hospitality fabric
Office chair fabric
Acoustic fabric
Workstation fabric
Auditorium fabric
Location: 15, G.T. ROAD, CHAUDHARY COMPLEX, NEAR CHAUDHARY MORH, Ghaziabad
5. Balavigna Weaving Mills Pvt Ltd
Established in 1995, the company with two decades of experience excels in the manufacturing of organic cotton and blended materials. The company is driven by the urge to improve and excel in the fabric manufacturing business. The ISO certified company has earned the prestigious Global Organic Textile Standard award and 5s Japanese award for its exquisite line of fabrics. The company specializes in the manufacturing of
Lycra core stretch fabric in various blends.
Products
Bamboo fabric
Cotton
Polyester
Organic cotton
Lycra cotton
Lycra polyester
Location: 11/A2, Kasthuraibai Road, Nagal Nagar, Dindigul – 624 003
6. Candor textiles
Candor textiles are integrated manufacturers of fabrics in India. The company weaves, processes, and stitches fabrics all under one roof. Established in 1974, the company ever since then has been into the manufacturing and export of technical performance textiles from India. Candor textiles, with a workforce of 500 employees, is the fastest-growing company in India. The company is known for the export of fabrics and textiles to 40 countries in the world. The major export destinations of the company are Europe, North America, Canada, and Australia. Candor textiles specialize in the manufacture of yarn-dyed, oil, and waxed canvas.
Products
Bookbinding fabric
Yarn-dyed fabric
Waxed canvas
Anti-mildew fabric
Digital printing fabric
Canvas panels
Canvas rolls
Canvas Pads
Frames
Location: Survey No. 22/1, Halka Patwari No. 27, Shiv Nagar, Khandwa Road, Indore – 452020, Madhya Pradesh – India
So these are a few fabric manufacturers in India. Which is your favorite fabric brand? Share us your opinion in the comments below.
Do check out http://blog.exportsconnect.com/handicraft-exporters-india/ for top Handicraft exporters in India.