India is known as the land of milk, as it is the largest producer of dairy products. Every year India produces 147 million tonnes of milk, which is double times the amount provided by the U.S. India is considered the largest milk-producing country. The flourishing dairy industry contributes to 50% of the Indian economy. Many companies mentioned below have been growing up as top milk exporters in India. The first dairy products produced by India are as follows:
Milk
Butter
Buttermilk
Butter oil
Fresh cheese
Milk powder
Cream powder
Baby milk
Skimmed milk powder
Whole milk
Ghee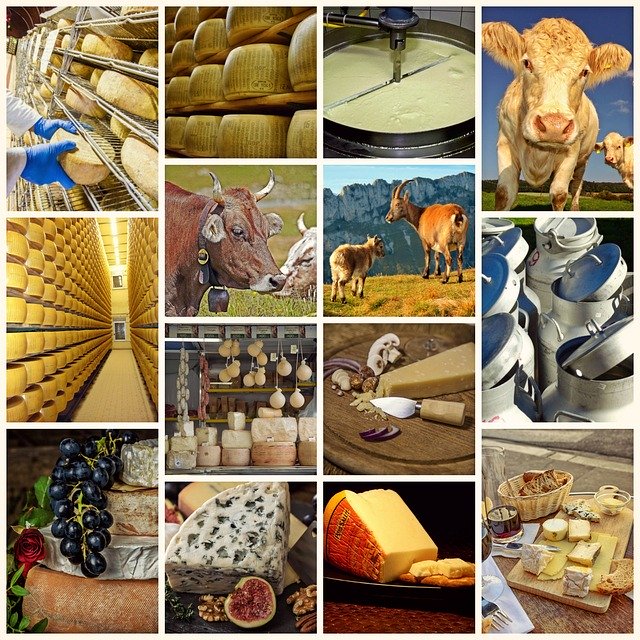 India is not just the largest producer of milk but is also the largest exporter of milk in the world. The primary dairy-producing states of India are Uttar Pradesh, Maharashtra, Himachal Pradesh, Madhya Pradesh, Punjab, Rajasthan, and Tami Nadu. Every year India exports dairy products worth Rs 2422.85 crores. Major export destinations for Indian dairy products are Turkey, UAE, Egypt, Bangladesh, Afghanistan, Canada, Argentina, Iran, Pakistan, and Bhutan. Afghanistan accounts for 31% of India's milk export. After agriculture, the dairy industry is India's second-largest source of income. Since ages, the Indian people have been rearing cattle for livestock and milk production.
India is not just the producer but also is the largest consumer of milk. The dairy industry has given brands like Amul and Nestle to earn global recognition for their milk products. The dairy industry is the primary source of income in rural areas. The increased demand for dairy exports has given rise to several milk companies, which in turn generates employment opportunities for all.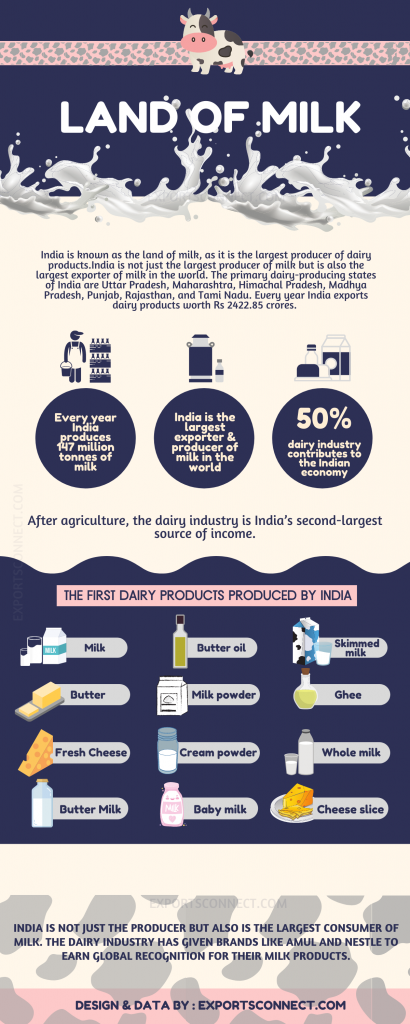 Here is a list of some of the top milk exporters of India.
1. DSA Exports
DSA exports are one of the leading names in the milk export business. The company is known for its wide range of premium quality of fresh dairy products. The company is known to be a supplier of raw vegetables like onion, okra, radish, and fruits such as mango, grapes, oranges. DSA exports also is a dealer of fresh flowers like rose, orchids, marigold. The company has also made its mark in the agro-industry by exporting products such as pickles, jams, jellies, candies. DSA exports are famous for their transparency in dealing with clients.
Products
Buffalo Ghee
Cow Ghee
Cow Milk
Buffalo Milk
Fruits
Vegetables
Flowers
Jams, candies
Location: A 401, A Wing, Vaibhav-Siddhi Heritage, Shriram Hsg Soc, Mhetre Wasti, Chikhal, Pune, Maharashtra – 411062, India
2. Siddharth Agro
Siddharth Agro, founded I 2006, is a leading manufacturer of dairy products. With excellent infrastructure and high-grade packaging, the company has established an identity in the global export market. The company has an annual turnover of Rs 1-2 crore. The company provides its products at competitive prices. The USP of the company is the multiple payment modes and transparent deliveries. Milk supplied by Siddharth Agro is free from microbes and hence can be stored for several days.
Products
UTH Milk
Yellow Butter
Tetra pack milk
Sterilized skimmed milk
Biomass briquettes
Cattle feed
Location: Sr. No. 145/3, Shewalwadi, Manchar Ambagaon, Pune, Maharashtra, India – 412406
3. Tpm Global exports
TPM global exports founded in 1977 is one of the most traditional Import and Export company of India. The company leverages its years of experience to fulfill customer needs. Over the years, the firm has exported 964+ products in the global market. The major export destinations of the company are Asian countries, and the primary one being China.
Products
Milk
Butter
Cheese
Oil
Foodgrains
Coconut
Coconut Coir
Fruits
Herbs and Spices
Handicrafts
Garments
Location: 13/ 3- 4, Perumal Kovil St, Salem 636501, Tamil Nadu, India
4. Esterlings
Esterlings is one of the most successful exporters and suppliers of India. The company delights customers around the world by providing them with agro products such as grounded spices, whole spices, milk, ghee, butter, rice, and Indian pulses. Esterlings is known for its premium quality of products and excellent packaging.
Products
Milk
Ghee
Butter
Indian spices
Rice
Indian spices
Fresh amla
Neem Powder
Jaggery
Spirulina.
Location: 170/10, Mukil Street, Pothigai Nagar, Dana, Vickramasingapuram, Tirunelveli, Tamil Nadu, India – 627425
So these are a few of India's top milk exporters. Which is your favorite milk brand in India? Tell us about your choice in the comments below.