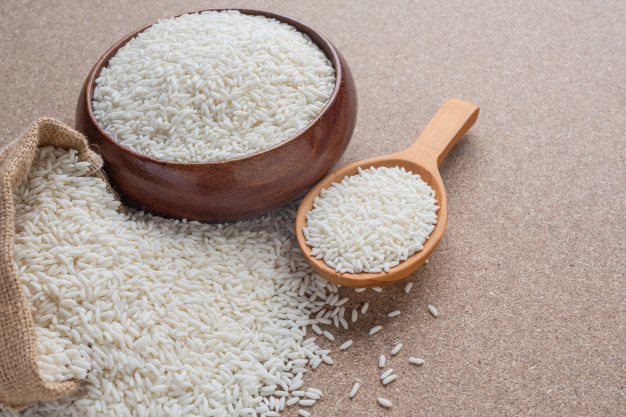 India is known to be the largest rice exporter in the world. 35% of the world's rice is grown and exported from India. Why not be it for it has the most extensive rice consuming population. India's role in the export business of rice is commendable. The land of diversity is known for exporting rice to 150 countries across the world. India is famous for producing the most beautiful rice grains, which include Basmati and non-basmati varients. A quarter percent of India's economy is generated from the rice exporting business. Studies have found that every year India exports around 20 varieties of rice across the world. Hence, there has been an increase in the number of Rice Exporters in India.
The rice export business of India not just produces capital and income for the country but also has paved the gateway for newer job opportunities. The flourishing rice export business of India has recorded the participation of over 1000 active rice exporter companies. Basmati rice has found its buyers across the world. Not lagging behind the non-basmati rice has witnessed an upsurge in its buyer list with the stepping in of new buyers such as Malaysia and Philippines. As of recent statistics, non-basmati rice exports have slumped up to a 40 percent hike in its sales, which comes to around 5-6 million tonnes. The rice export business of India has picked up speed with the increase in demand from Southeast Asia. Every year the country exports about 12 million tonnes of rice, which includes both Basmati and non-basmati varients. Having talked enough of the figures, let us look at the list of the top rice exporters of India who ace at the game. So here is a list of top 5 rice exporters of India.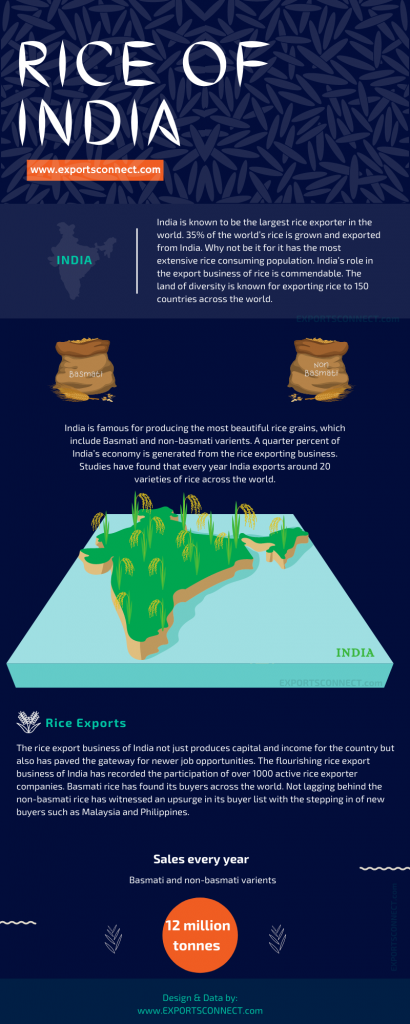 1.KRBL Limited
When it comes to rice exporting business, KRBL tops it. The 120-year-old company has been exporting rice ever since 1889. KRBL Ltd. is India's first integrated rice company, which has its whole product chain. The years of experience have taught KRBL to master the art of perfecting Basmati rice grain. KRBL is the company that takes the credit of introducing the latest milling techniques to the basmati industry. Their flagship brand India Gate has garnered much appreciation in India and across the globe.
Brands
India Gate
Doon
Nur Jahan
Indian Farm
Lotus
Taj Mahal Tilla
Location: C-32, 5th & 6th Floor, Sector-62, Noida – 201301, (UP), India
2. Amar Singh Chawal Wala
Amar Singh Chawal Wala is India's leading manufacturer of Basmati rice. The ISO certified company is known for selling the finest and purest varieties of Basmati rice. The company was founded in 1900, and ever since then, they, with their dedication, have earned the reputation of being multinational rice exporters of India. The flagship brand of the company Lal Quilla is listed amongst the famous rice brands of the world.
Brands
Lal Quilla
Maharani Parboiled Basmati Rice
Maharani Raw 1121 Basmati Rice
Maharani Basmati Health Rice
Location: Out Side, Chatiwind Gate Roundabout, Antaryami colony, Amritsar, Punjab 143001
3. Kohinoor Foods Ltd.
Kohinoor foods ltd. is a part of McCormick & Co. Inc., which is a 127-year-old company. The firm operates a 100% subsidiary of Kohinoor foods. Over the years, Kohinoor rice has become India's most preferred rice brand. The company works with the vision of spreading the aroma of happiness around the world.
Brands
Kohinoor Authentic Basmati Rice
Kohinoor Health Rice
Kohinoor Value Rice
Kohinoor Traditional Rice
Location: Sonipat, Haryana 131027
4. Shri Lal Mahal Group
Shri Lal Mahal Group is considered amongst the biggest exporter of rice from India. The company was founded in 1907 and since then, has emerged as one of the largest multinational conglomerates of India.
Brands
1121 Basmati Rice
IR 64 Long Grain Rice
Pusa Basmati Rice
Golden Sella Basmati Rice
Empire Basmati Rice
Royal Basmati Rice
Supreme Basmati Rice
Location: Bhagwan Das Nagar, Block 6, B-5, Bhagwan Das Colony, Block E, East Punjabi Bagh, Punjabi Bagh, New Delhi, Delhi 110026
5. D.D International Inc.
D.D International Private limited is considered amongst India's largest exporters of premium quality of Basmati rice. Every year the company exports around 3,00,000 metric tons of rice. The company has been into business ever since 1979 and since then has successfully established its global footprint in the export business.
Brands
Golden Grain Rice
Fiza Brand Rice
Silver Grain Rice
Location: Takhana Village, Taraori, Karnal, Haryana 132116
6. Mahavir Rice Mills
Mahavir Rice Mills is one of the leading companies in production and exportation of Rice. It was established in the year 1985 and has been maintaining a good legacy across since the last 30 years. The company has gained a significant growth since the last 3 decades and thus, have extended their reach in the global market as well. Mahavir Rice Mills have been exporting rice to wide range of network around the globe. They are committed to deliver precision-perfect quality to their customers; nurture a professional work environment, which fosters employee excellence, growth and job satisfaction; and build a financially strong, growth oriented company that creates value for them.
Products
Basmati Sella Rice
Pusa Basmati Sella Rice
1121 Golden Sella Rice
1121 Sella Rice
Basmati rice
Pure Pusa Golden Rice
Basmati Sella Rice
Pusa Basmati Sella Rice.
Location – Mahavir Rice Mills
Dera Gama Road, Assandh – 132039,
Distt. Karnal (Haryana) INDIA
So these are some of the leading names in the rice export business of India. Did you find the post useful? Share with us about your thoughts in the comments below.
Check out http://blog.exportsconnect.com/wheat-exporters-india/ for list of Wheat Exporters in India.