India is the land of aromatic spices and flavors. The credit for an authentic taste of Indian cuisines goes to the spices which enhance its taste. According to the Food and Agriculture of the United Nations, India is the leading exporter of spices worldwide. India also has to its credits the crown for being the first most significant producer of Chilli powder and ginger. The country also ranks as the second-largest producer of black pepper. Indian spices bring richness to the taste of food, which is why they are most sought after globally. As a country of leading exporters in Spices, here are some of the best spice Exporters in India.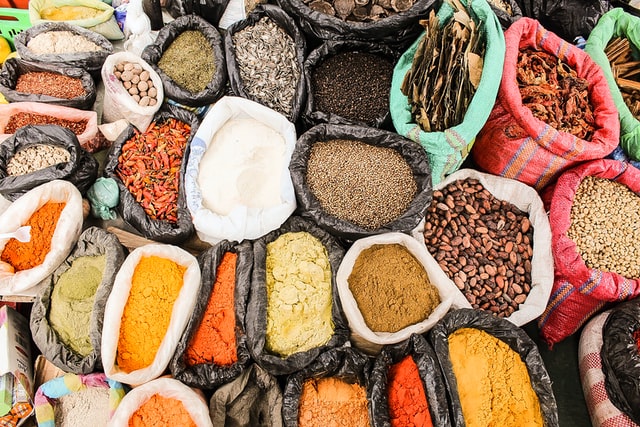 Studies have found that India produces about 75% of the 109 spice variants listed by ISO. The country trades 50 percent of these spices in the global market. The primary spices produced in India are as follows:
Turmeric
Pepper
Cardamom
Chili powder
Ginger
Coriander
Cumin
Celery
Fennel
Fenugreek
Asafoetida
Garlic
Tamarind
Cloves
Nutmeg
The primary export destinations of Indian spices are China, the U.S.A., Vietnam, U.A.E., Malaysia, U.K., Sri Lanka, Saudi Arabia, and Germany. The spice export business of India contributes to 35% of the Indian economy. So here is a list of the top spice exporters in India.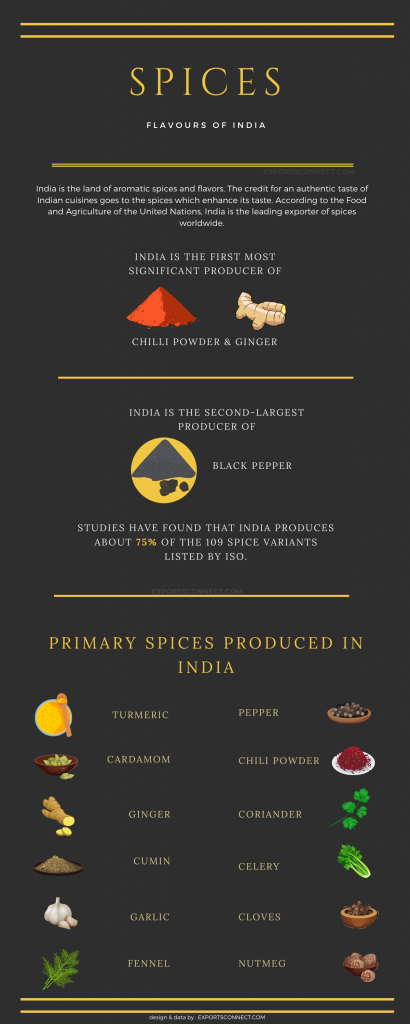 1. JSP Global Impex
JSP Global Impex is one of the leading names in the spice industry. The Company, with their dedication, have achieved A.P.E.D.A. certificates. Through years have built an identity in the global market. The primary export destinations of the Company are Asia, Malaysia, Singapore, and Sri Lanka.
Products
Chilies
Coriander powder
Moringa leaves
Red pepper
Tamarind
Turmeric
Location: Thoothukudi, Tamil Nadu, India
2. Nedspice Processing India Private Limited
Established in 1991, Nedspice is a pioneer of spice exports in India. The Company, every year, produces around 5000 tons of spice. Nedspice works with the vision of spreading the aroma of authentic Indian spices around the world. Every year Nedspice delivers about 15000 tons of spices, herbs, and dehydrated vegetables around the globe. The firm opts for the safe packaging of the spices in a regulated environment. Nedspice imports raw spices directly from the suppliers and grinds them to perfection. The primary export destinations of the Company are Europe, North America, South Africa, and Asia.
Products
Black pepper
Cumin
Ginger
Cloves
Cassia
Cinnamon
Turmeric
Nutmeg
Ginger
Location: #12/597-8 Jawahar Road, Koovappadam, Cochin – 682 002, India.
3. Asian Food Industries
Founded in 1986, Asian Food Industries has become a prominent name in the spice export business. The Company is known to export authentic spices at affordable rates. Asian Food Industries are one of the first millers to export whole and blended spices, oilseeds, and groceries.
Products
Fennel Seeds
Cumin Seeds
Chilly
Turmeric
Sesame seeds
Asafoetida
Coriander seeds
Ajwain seeds
Location: N.H. No. 8, P.O, Dabhan, Ta. Nadiad, Dist. Kheda – 387 320, Gujarat (India).
4. Sureka & Company
Sureka & Company was established in 1983 in Tamil Nadu. Initially, the Company was into Turmeric trading business and gradually with time began exporting other spices. The A.G.M.A.R.K. certified company has established its identity as a leading spice supplier in Tamil Nadu. Sureka & Company mostly ship their spices to the Asian and European countries. The spices exported by the Company are of Erode and Salem quality. The years of experience, hard work and determination have made Sureka & Company appear as a game-changer in the spice industry.
Products
Turmeric
Black Pepper
Chilli
Ajwain
Cumin
Coriander powder
Cumin powder
Garam Masala
Location: 35, Subbian Street, Erode – 638003, Tamil Nadu, India
5. Jabs International Pvt.Ltd.
Jabs International Pvt.Ltd. is one of the few spice exporters of India who adhere to the microbiological international standards parameter. The company exports sterilized spices across 75 Asian, American and European countries. Jabs International Pvt.Ltd. has over 35 years of experience in the export business. The transparency in their business, paired with the quality products, makes them a preferred spice export brand. Over the years, with determination, the Company has earned the reputation of commitment honored.
Products
Spices
Oilseeds
Herbs
Raisins
Pulses
Beans
Agricultural products
Location: A-350, T.T.C. Industrial Area, M.I.D.C., Mahape, Navi Mumbai 400 710. India.
6. Pisum Food services
Pisum food services is one of the largest companies providing various food items all across the country. It is a leading exporter of food items starting from spices, pulses, fruits, vegetables, and many more. With several partnerships with buyers across multiple countries, they have grown to be among the go-to companies for food export from India. Their vision is to make themselves a globally recognized food company nourishing everyday routine. Also, they have been generating Spces export to a greater extent and promoting Indian Spices.
Products
Turmeric
Ginger
Cinnamon
Coriander
Saffron
Fruits
Grains
Vegetables
Cumin
Black Pepper
Location –
33/15, Prashant Bunglow,
Opp. Garware College,
Karve Road, Pune 411004 India
So these are some of the leading names of spice exporters from India. Did you find the post useful? Share your thoughts with us in the comments below.