Stainless steel is an iron alloy with a composition of 10.5% chromium, nickel, molybdenum, titanium, copper carbon and nitrogen. Stainless steel is classified under five groups, namely austenitic, ferritic, martensitic, duplex and precipitation hardening. The application of stainless steel is many. It is used in a variety of sectors. Some common areas where stainless steel finds its usage are as follows:
Household goods
Utensils and kitchen appliances
Tubes and pipes
Architecture and Décor elements
Automobile, railways and transportation
Oil and gas sector
Nuclear sector
Pharmaceutical and Dairy industry
Coinage
Power plants
Consumer durables
Blades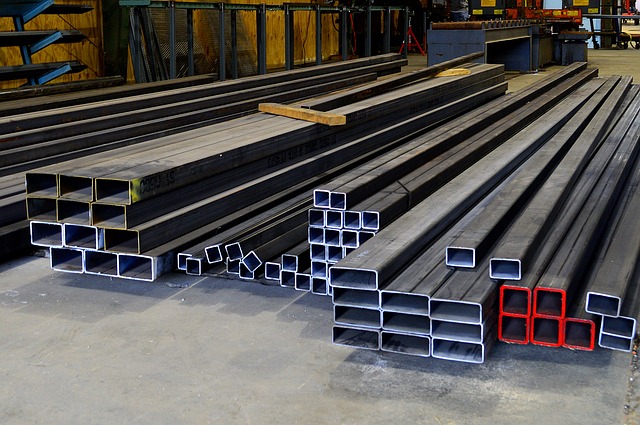 Over the past few years, the consumption pattern of stainless steel has changed a lot. The demand for stainless steel has elaborately increased with the rise of electro-mechanical, engineering, architecture and automobile industries. Stainless steel finds 80% of its usage in the manufacturing of cookware and durables. India is considered as the stainless steel powerhouse with an annual production capacity of 3 million tonnes. The production of stainless steel started in 1990 in India. Over the years the stainless steel production has increased in India. With years the emphasis of Indian stainless steel industry shifted over to from volume-to-value-based production. China is known to dominate in the production of stainless steel. But with the rise of the Stainless steel industries in India, the import of stainless steel has declined in the country.
To establish the flourishment of the Indian stainless steel industry, the government imposed anti-dumping duty on the imported products from China, Malaysia and South Korea. Also, the government imposed a countervailing duty of 19.95% against the imports from China.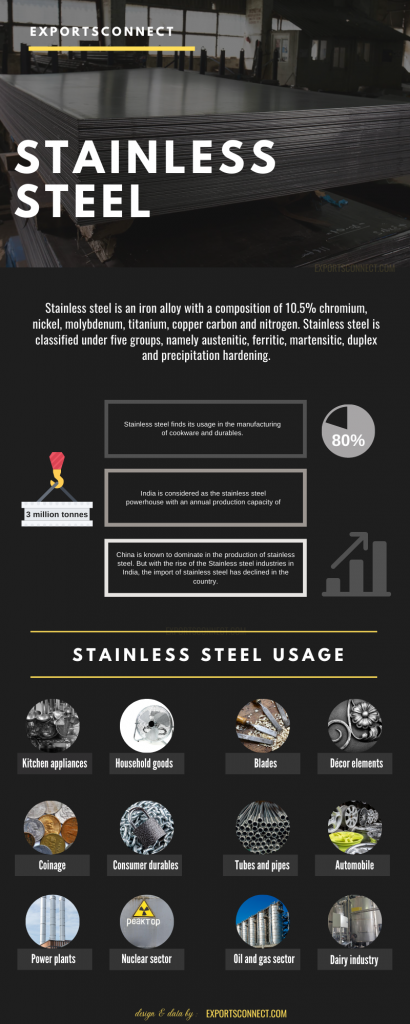 In the stainless steel industries of India Jindal stainless steel tops the list. Here is a list of the top stainless steel manufacturers of India.
1. Jindal Stainless Steelway
Jindal Stainless steel way is a part of the O.P Jindal group, and it accounts to be India's largest stainless steel producers. The ISO certified company has single indigenous unit stainless steel plants located in Hisar and Haryana. The globally recognized company is involved in the manufacture of stainless steel flat products such as Austenitic, Ferric, Martensitic and Duplex grades. Right from polished stainless steel sheets to coils the company manufactures it all. On an annual basis, Jindal stainless steel way is known for the manufacture of 290,000, 160,000 tons of steel. JSSL excels in the manufacturing of customized stainless steel products. The company works with the vision of being a world-class service centre of stainless steel.
Products
Embossed sheets
Mirror finish sheets
Etched sheets
Chequered plates
HRAP coils
CRAP Coils
HRAP plates
Location: Jindal Stainless Steelway Ltd, Office no. 1009, 10th floor, Mayuresh Cosmos Building, Plot No. – 37, Sector – 11, CBD Balapur, Navi Mumbai 400 61
2. Virag Group
The viral group is a globally recognized stainless steel manufacturer of India. The company is known to export its stainless steel products across 90 countries globally. Viraj group exports 90% of its production in the global market serving around 1300 customers. The company, founded in 1992, has been into the business for 20 years and has an annual turnover of $1.5 billion. Viraj group is known for the manufacture of stainless steel product groups such as Austenitic, Ferritic, Martensitic, Duplex and Electrode. The company made the first production of stainless steel in 1995. Viraj's stainless steel products find its usage in the automobile industries, food processing industries, boilers, pressure vessels, shipbuilding, oil pipelines, petrochemical facilities, construction projects and surgical instruments. Viraj's products have received 92 certifications and approvals across the globe.
Products
Stainless Steel Wires
Stainless Steel Fasteners
Stainless Steel Bright Bars
Stainless Steel Profiles
Stainless Steel Welding Wires
Stainless Steel Flanges
Stainless Steel Grades
Melting Shop
Section Rolling Mill
Stainless Steel Wire Rods
Location: 11-A Nathalal Colony Kaypeehouse Stadium Road Ahmedabad Ahmedabad Gj 000000 In
3. Shah Alloys Ltd.
Shah Alloys Ltd. is one of the most versatile steel producers in India. The company is known for its extensive range of carbon steel, mild steel and armour steel. Founded in 1990 the ISO certified company has become a leading name in the stainless steel manufacturers of India. Shah Alloys is the critical suppliers of stainless steel products in India and around 50 countries globally. The company works with the vision of providing a high quality of products to the customers.
Products
Stainless Steel
Hot Rolled coils
Hot-rolled sheets
Cold rolled coils
Cold-rolled sheets
Alloys
Mild steel
Carbon Steel
Armour steel
Location: 5/1, Shreeji House, Behind M.J Library, Ashram Road, Ahmedabad – 380 006, Gujarat, INDIA
4. Panchamahal steel
The 40-year-old company, Panchamahal Steel, has been into the steel manufacturing business since long. The company has gained popularity for its comprehensive range of stainless steel products. Panchamahal steel is involved in the production of Austenitic, Martensitic, Ferritic, Duplex and low nickel – high manganese grades. The USP of the company is its ability to manufacture customer-specified application-centric stainless steel products. Panchmahal Steel is also involved in the testing of radioactive elements, ROHS compliance, positive material identification for raw materials and shipping products.
Products
· Stainless steel wires
· Stainless steel Rods
Stainless steel bars
Stainless steel welding wires
Location: GIDC Industrial Estate, Kalol 389 330, Dist. Panchmahals, Gujarat, India Panca
5. Shyam Ferro
Established in 1997, Shyam Ferro is a leading name in the stainless steel industry. The company has been into the manufacturing of ferroalloys since long. Every year the company produces around 2,00,000 million tons of stainless steel. The premium quality of products paired with on-time delivery has made the company earn global recognition for being the acing stainless steel manufacturer of India.
Products
High Carbon Ferro Manganese
High Carbon Silico Manganese
Medium Carbon Silico Manganese
High Carbon Ferro Chrome
Low Carbon Silico Manganese
Medium Carbon Ferro Manganese
Location: Vishwakarma Building, 86C, Topsia Road, Kolkata 700 046, West Bengal, India
So these were a few of the leading names in the stainless steel manufacturers of India. Did you find the post informative? Share your thoughts about the post in the comments below.