Banana is the second most important fruit crop in India. The banana plantation of India provides livelihood to millions of people. Since ages, India has been into the cultivation of banana. Today there are several banana exporters from India who contribute 20% to the world banana export business.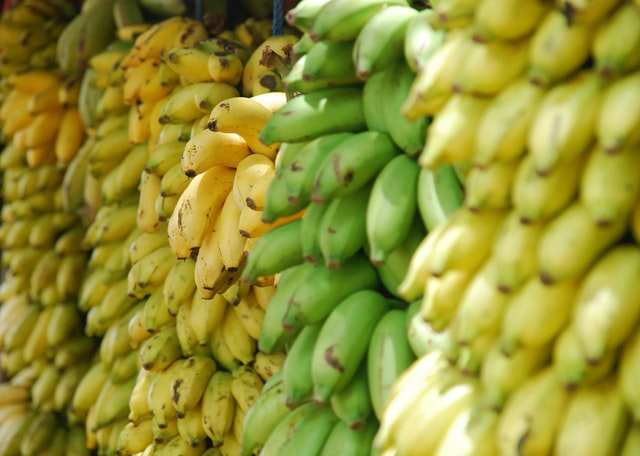 Indian, on an annual range, produces 16.91 million tones of banana. The banana production of India is worth $49 billion. Banana contributes to 37% of the total fruit production in India. Banana is a tropical fruit and occupies several hectares of land for its production.
Maharashtra is the leading producer of Banana in India and is followed by. The banana plantation of India is grown by planting suckers. In India, banana is the third most cultivated fruit crop. The first banana producing states of India are Karnataka, Gujarat, Andhra Pradesh, and Assam. The banana production of India contributes 40% to the Indian economy. The major export destinations for Indian banana are West Asia, the UK, France, Saudi Arabia, Arab Emirates, Kuwait, and Qatar. India is known for the production of high-grade bananas. India exports raw and ripe bananas and is involved in the export of banana products such as banana wafers.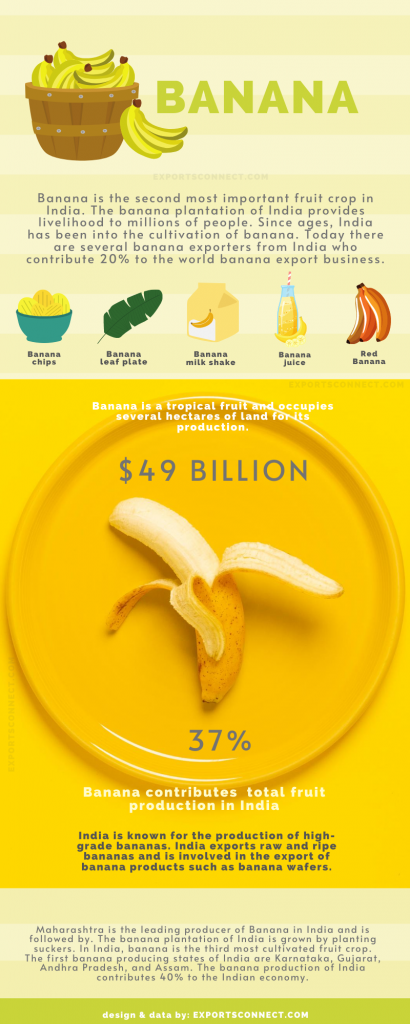 So here is a list of the top banana exporters from India.
1. Meem Exporters
Meem Exim is a young and fast-growing export and import company in India. The company was established in 2015 and has grown to become a leading name in the banana export business within a short period. Meem Exim has earned a reputation for itself by offering customers high-quality products at an affordable price. The company also deals with the export of metals, wood, and engineering items. Meem Exim works to provide seamless and best quality export and import services around the globe.
Products
Cavendish Banana
Robusta Banana
Metals
Woods
Engineering goods
Location: Meem Exim E-47, Aqsa Complex, Waliv, Vasai East (Mumbai), Palghar, Maharashtra, India, Zip – 401208
2. Yuvaraju Agro Impex
Yuvaraju Agro Impex is a company that is involved in the export of fresh Cavendish bananas. The bananas exported by the company are rich in fiber and high on the potassium count. With 50 years of experience in the field, the company has become the leading company in India's export business. The company works with the vision of being the best provider of agro commodities. Yuvaraju has earned recognition in the global market for the export of high-quality farm-fresh products at a reasonable rate. The company for the shipment of the product sources from reliable and authentic vendors.
Products
Cavendish Banana
Mangoes
Basmati Rice
Curry leaves
Round grain rice
Shrimp shell
Snake gourd
Dry red chili
Dry grass powder
Location: No 44/45 – Vilakkadi Kovil Street Near Rangaswamy Kulam, Kanchipuram – 631501, Tamil Nadu – India
3. Sun export
Sun exports is a leading name in the banana export business. The company's primary export destinations are Dubai, Malaysia, Singapore, UK, and America. Established in 2011, the company, with its state-of-art facilities and in-depth knowledge of export business, has earned much fame. The company has received global recognition for the supply of a premium range of products. Sun exports work with the vision of being the leading exporter of agro products in the world.
Products
Green banana
Coconut
Coconut water
Onion
Tapioca
Location: Vallioor, Tirunelveli District, Tamilnadu, India – 627117
4. Kinal Global care
Kinal global care is a leading name in the export of Cavendish bananas. Kinal group stands for fortune, happiness, and spirituality. The team at the company works with the vision of serving customers with premium quality products. The company was formed to supply best-quality spices, herbs, agro products, fruits, and vegetables worldwide. Kinal group has a team of professionals who excel in sourcing, processing, packing, and shipping of the products. The company has established an identity of being top exporters of banana in the international market. Kinal group is known for the on-time delivery of high-grade products at an economical budget.
Products
Cavendish Banana
Indian herbs
Oilseeds
Coconut products
Animal and bird feed
Agro commodities
Indian raisins
Fruits and Vegetables
Location: Kinal Global Care Pvt. Ltd., Unit 4/705, Plot No. 4, Sector 9E, Kalamboli, Navi Mumbai – 410218, Maharashtra, India.
Are you start with the banana export business? Looking to collaborate with banana exporters from India? Reach out to us at exportsconnect.com by filling in the form. We have a list of the leading banana exporters in India that you can collaborate with for business expansion.
Check out http://blog.exportsconnect.com/top-5-ginger-exporter-of-india/ For Top Ginger Exporters in India.