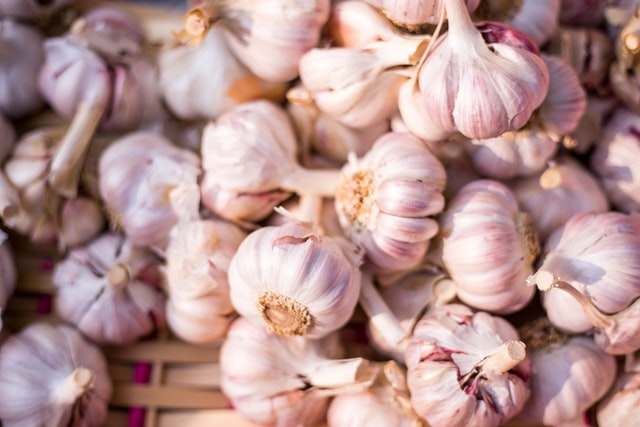 Garlic is a spice that is a native of central Asia. As the leading producer of garlic in the world, Top Garlic Exporters from India have been growing up. The country has been into garlic production for several years now. Today there are many garlic exporters from India who are known to contribute 30% to the Indian economy. Indian cuisine gets its authentic taste with the addition of garlic. Garlic is not just a kitchen spice but is also known for its medicinal properties. The garlic export industry of India has come a long way since its foundation. The favorable climatic conditions of the Indian subcontinent have increased the production of garlic.
Garlic is cultivated primarily during October-November in Gujarat. In other parts of the country, garlic is grown during August-October and September-November. India is known for the production of several varieties of garlic. Some of the significant types of garlic harvested in India are as follows:
Bhima Omkar
Bhima Purple
Agrifound White
Yamuna Safed
Godavari
Shweta
Agrifound Parvati
DARL-52
Gujarat garlic
Ooty garlic
The primary garlic producing states of India are Madhya Pradesh, Gujarat, Uttar Pradesh and Rajasthan. Indian garlic is famous for its aroma and sweetness. India is the second-largest producer of garlic after China.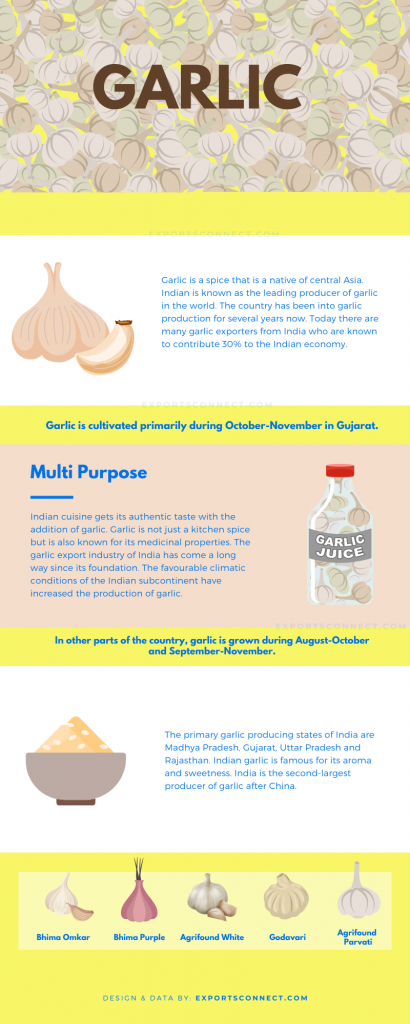 Here is a list of the top garlic exporters from India.
1. Savaliya Agri Commodity Export Pvt.Ltd.
Savaliya Agri is a leading name in the field of export of agriculture products. The company has become the foremost manufacturer, exporter, supplier of agricultural products and FMCG products. Savaliya has achieved certification for the shipping of its premium quality of products. The company works with the vision of becoming a leader in the agriculture product export industry. Savaliya has a team of experts who check the quality of the products before their shipment. The company is known to supply high-grade products in the market at a budget rate.
Products
Oilseeds
Peanuts
Whole spices
Red onion
Fresh ginger
Fresh garlic
Location: 11, Second Floor, Block B, Jayraj Complex, Nr, Soni Ni Chali Char Rasta, Opp, Bank of Baroda, Odhav Road, Ahmedabad – 382 415
2. Taj Agro Products
Taj Agro is a leading name in the garlic export industry. The company was established to supply quality agro-products in the market. Taj Agro group has the import and export business all under one roof. The company is a venture of the Taj Group, a name that is trusted all over the world. Right from sourcing, milling, processing to shipping the company has a strong network of the team for managing it all. The primary export destination of the company is Middle East countries and Asian countries. The on-time delivery of the products has enabled the company to establish a reputation of trusted Indian exporter in the global market.
Products
Garlic
Milk Powder
Rice
Wheat
Sweet corn
Fruits
Spices
Vegetables
Seeds
Chicken sweet corn feed
Poultry Export
Animal feed
Mutton
Fish
Sugar
Jaggery
Fruit juice
Tomato sauce
Leather Products
Textiles Products
Location: B/134, Oshiwara Industrial Centre, Oshiwara Bus Depot, Link Road, Goregaon (West), Mumbai – 400104
3. Hardcore corporation
Hardcore corporation was founded in 2000 and within a short period have become prime manufacturers of fruits, rice and vegetables. The products of the company are in high demand in the market because of their price viability and excellent quality. The company, over the years, has established a reputation in the domestic and international market for the supply of high-grade products. Hardcore corporation, with the export of the products, has an annual turnover of 5 crores.
Products
Fresh fruits
Fresh vegetables
Garlic
Basmati Rice
Non-Basmati Rice
Mango Pulp
Frozen pomegranate arils
Cashew nuts
Desiccated coconut
Location: Hardcore Corporation, Office No. 4, Chordiya Sankul, Nasik Road, Nasik- 422101
4. Atmiya International
Atmiya Internation is a flourishing company that is involved in the export of a variety of fresh fruits and vegetables. The company is known for the supply of a high range of vegetable powder that finds its usage in the culinary delights and medical industry. Products exported by the company are known for their taste, texture and aroma.
Products
Vegetable Powder
Garlic Powder
Ginger Powder
Onion Powder
Tomato Powder
Vegetables
Fresh Ginger
Garlic
Red Onion
Fresh Drumstick
Fresh Mango
Tobacco
Basmati Rice
Guar Gum
Ladies Dress Material
Location: 19-Gyan Baug Society, Padra Dist-vadodra., Padra, Gujarat, India – 391440
Are you start with the garlic export business? Looking to collaborate with garlic exporters from India? Reach out to us at exportsconnect.com by filling in the form. We have a list of the leading garlic exporters in India that you can collaborate with for business expansion.
Do visit http://blog.exportsconnect.com/list-of-the-top-jaggery-exporters-in-india/ for Top Jaggery Exporters in India.