Bearings are an essential part of the machinery and hence, we will be providing you with Top Bearing Suppliers in India. They are used to create motion between two machine parts thus ensuring its smooth functioning. India has been into the manufacturing of bearing since 1946 and with time the country began to dominate in the sector. Today there are several bearing suppliers in India who not just are into manufacturing but also have stepped into exporting them. As per statistics, the worth of Indian bearing market is estimated to be of Rs.95 billion, and it contributes to 5% of the global bearing demand. 60% of the bearings demand is met through domestic production while the remaining is met through import of it.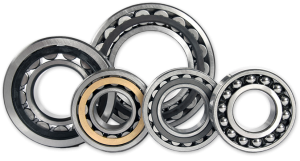 The bearing industry finds its primary consumers in the automotive and industrial sector. The different types of bearing that are manufactured in India are as follows:
1. Ball-bearing
2. Roller Bearing
Cylinder roller bearing
Taper roller bearing
Needle roller bearing
3. Jewel bearing
4. Fluid bearing
5. Magnetic bearing
6. Plain bearing
7. Rolling element bearing
8. Flexure bearing
The Indian bearing market is divided into two categories which are the organized sector and unorganized sector. The two segments have different production techniques where the organized area uses modern technology. On the other hand, the unorganized sector uses the traditional production technique. Apart from international manufacturers, the Indian bearing market also is the home to several national and local bearing companies.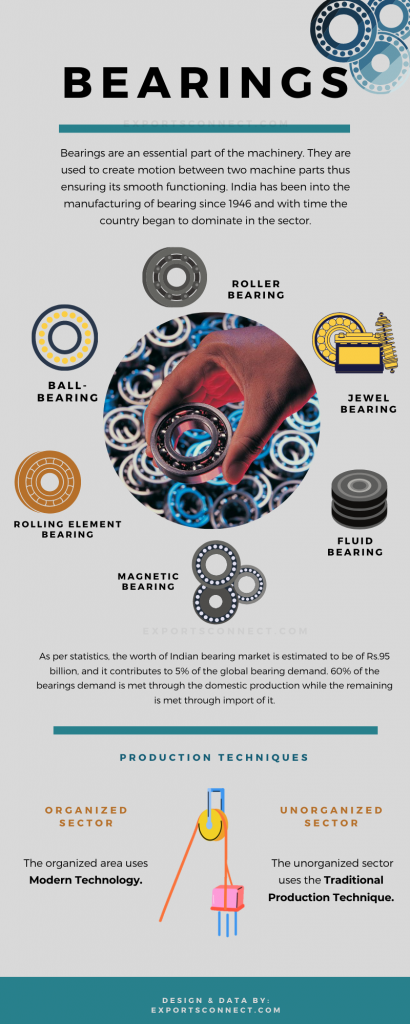 So here is a list of the top bearing suppliers in India.
MBP bearing is a leading manufacturer of hi-precision and hi-quality MBP brand anti-friction bearings. Established in 1975, the ISO certified company over the years has earned global recognition with its premium quality of products. MBP bearings are known for the manufacturing of machinery and equipments. The high quality products are at par with the international standards. Special attention is paid to the interior designing and surface finish of the bearings to enhance their performance.
Products
Bearings
Universal joints
Housing & sleeves
Location: MBP BEARINGS PVT. LTD. 902/290, Shalimar Industrial Area, Near Lane No.3, Main Road, Delhi – 110088, India
NTN bearing is the world's largest bearing producer. The company has manufacturing plants around the world. Founded in 1918, NTN has garnered much acclaim for the stringent quality of products. The company is known to export its products to around 27 countries worldwide. Some of the world's leading automotive brands and industries are its clients. Right from OEM's to MRO's the company manages it all and is known for its productivity and efficiency.
Products
Ball bearings
Roll bearings
Magnetic bearing
Plain bearing
Location: Polyhose Towers(SPIC Annexe) No 86, Mount Road, Guindy, Chennai 600032
Premier bearings are India's top bearing distributor. Founded in 1975, premier bearing over the past 40 years has steadfastly grown a lot. The company has a vast experience in bearing distribution and manufacturing. With a short period, the company with its speed, scalability and consistency has earned potential clients in not just India but also around the world.
Products
Rolling and plain bearings
Linear guidance system
Maintenance products
Maintenance services
Mechatronics
Digital services
Location: Nariman Bhavan, 8th Floor, 227 Backbay Reclamation Nariman Point, Mumbai – 400021, Maharashtra, India
ARB bearings were established in 1990, and with their 60 years of experience have earned much acclaim for their quality products. The company is known for the production of the affordable bearing. For the manufacture of the products, the company blends teamwork, excellent production and innovative manufacturing techniques.
Products
Bearings
Universal joint cross
Industrial grease
Pro clutch
Location: H-22, Udyog Nagar, New Delhi 110041, Delhi, India
Bombay trading corporation, also known as BTC is a renowned manufacturer, importer and supplier of bearings. The company with 40 years of experience has earned much acclaim for its range of premium products. The ball bearing manufactured by the company are of superior quality metal and are delivered after undergoing through multiple quality checks. Their products are known for exquisite design, anti-corrosive nature, sturdy construction, durability and beautiful finish. The company's client-oriented and transparent business has made them earn the trust of customers.
Products
Ball bearings
Roll bearings
Magnetic bearing
Plain bearing
Jewel bearing
Location: Office No. 20, 1st Floor, 152, Narayan Dhuru Street, Masjid (W), Mumbai – 400003. Maharashtra, India.
SKF India is a part of SKF Germany which has been one of the leading Bearings Suppliers across many countries around the world. The company seals mechatronics lubrication systems and services which include technical support maintenance and reliability services, engineering, consulting, and training. SKF India has a network of around 300 suppliers all around India and has been growing since. SKF led its establishment in 1923 in India and is generating various operations, providing solutions across the automotive and industrial sectors to achieve breakthroughs in friction reduction, energy efficiency, and equipment longevity and reliability.
Products
Rolling Bearings
Mounted Bearings
Slewing Bearings
Plain Bearings
Magnetic Bearings
Location – Mahatma Gandhi Memorial Building, Netaji Subhash Road, Charni Road Station Overbridge, near Tarapurwala Aquarium, Mumbai, Maharashtra 400002
Are you planning to grow your business? Looking for collaboration with the best bearing suppliers in India? Fill the form to get in touch with the leading bearing suppliers of the country.
Check out for http://blog.exportsconnect.com/top-stainless-steel-manufacturers-india/ Top Stainless Steel manufacturers in India.